Ganga – Not just a river in a holistic country like India, Ganga is Maa for us who purify our soul. Ganga is largest river in India and a Life Line of millions of people especially North Indians. Ganga Ji is important in terms of our Religion, Tradition, Culture, Economy, Energy, Agriculture, or we can say Maa Ganga is source of life. Ganga Basin spread over 8,62,769 km square and is most widely & heavily irrigated agriculture land in the world where farmers can practice multiple cropping for their livelihood. Do we care this Boon? NO! Because, in 2007, Ganga was ranked as one of the five most polluted river in the world.
Causes of Pollution in the River Ganga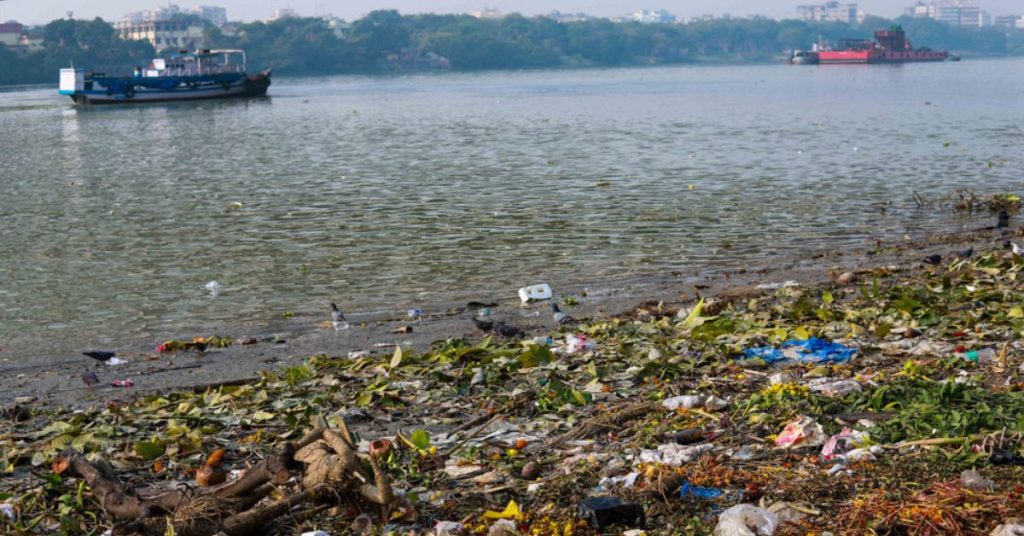 The main cause for the increase of Water Pollution in the River Ganga is the establishment of large number of factories on the river bank and dumping untreated waste material and toxic heavy substance into it. These industries are nearly 20% responsible for pollution and as per the government report released in 2017, 764 industries are grossly polluting the river. Out of these 764 industries, 684 are in Uttar Pradesh. Cities (Allahabad, Kanpur, Varanasi, Prayag, Haridwar, Patna, Kolkata) are located on the river bank and people residing in these cities are dependent on the river Ganga for domestic usage (bathing, Laundry) and sewage waste are dumped into the river which is the cause of 80% pollution. Festivals like Khumb Mela, where people take bath in the river to washed off their sins are one of the causes of pollution. At the Ghats of Varanasi, after the cremation of body, ashes are dumped into the river due to which the quality of water is draining. With the rise in the visits of Pilgrims/Travelers at Rishikesh, Badrinath, Devprayag etc. the level of water pollution increases as the cities are mostly create Hotels for their own benefits and least care about the creation of drainage system. Dams and Canals which not only suppress floods, but also provide water for domestic, industry and irrigation systems. Do you know Dams and Canals are the cause of water pollution on Ganga River? The main problem with Dam is that it increase the salinity in the downstream of the Ganges, and badly effect on the ground water and soil along with the river. "Is personal benefits are more important than saving our MAA Ganga?"
Effect of Water Pollution in the life of Human Being/ Marine Animals
The monitoring results obtained during 2011 under National Water Quality Monitoring Programme reflect that organic matter and bacterial population of Faecal origin continue to dominate the pollution problem in River Ganga. Faecal Coliform value ranges from 5- 46000 MPN/100ml and not meeting the water quality criteria for bathing in river Alaknanada at Rudraprayag. The Total Coliform value ranges 5 – 580000 and not meeting the primary water criteria based on designated best use for category 'C' at all monitored locations of river Alaknanda and Mandakini; and in river Ganga at Raiwala and Haridwar. With the increase in the pollution, the water borne diseases are spreading a lot which are main causes of death of human beings. The toxic wastes released from the industry highly effect the life of marine animals, due to which the population of Dolphins are rapidly decreasing. "Save your Life, Free Yourself from Diseases by Cleaning our MAA-Gange."
Measures Taken by Government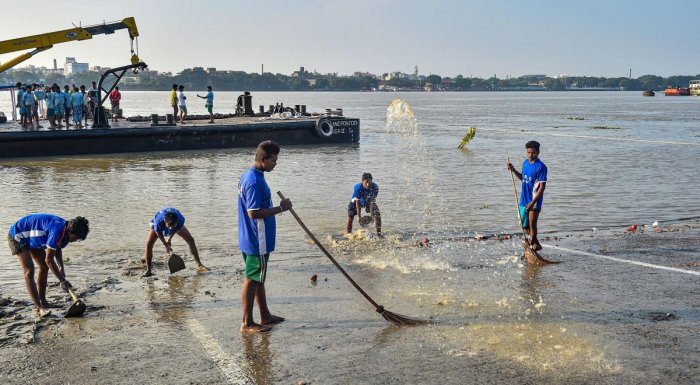 In 1985, the then Prime Minister Rajiv Gandhi has launched a programme Ganga Action Plan (GAP) with the objective to clean the water quality, conserve the biotic diversity and river basin management. In 2010, Indian Government has embarked $4 Billion for the campaign of Clean Ganga. In 2014, Union Finance Minister Arun Jaitley has announced a project "Namami Gange" with the objective of abatement of pollution, conservation, and rejuvenation of the Ganga and spend Rs. 2037 Crore. "Help Sarkar in cleaning our MAA-Gange.
Suggestions by our Citizens & my opinions to Clean Ganga
Large number of industries are illegally set up in the river bank and these industries are the main reason of pollution. All industrial and commercial units are to be ordered to start working towards having Treatment plants within 1 year & Plan for Biogas plants.
Ban consumption and disposal of Plastic, garbage near or in the river. Why to wait to pass the legislation for banning the waste consumption? Why can't we start taking initiative from our end to clean Ganga?
SEBI to warn all listed companies working along the rivers to follow all norms/regulations within 1 year. Noncompliance will result in delisting the industries.
I understand the religious faith for MAA Gange, but Are you understanding the importance of Ganga Ji? We take initiative to clean Swimming Pool and take bath before entering into it. Why Can't we do the same thing when we want to wash our sins in Gange Ji?
Use chain link fence at different places to block the floating waste at specific places in the river.
Clustering Policy – Since Effluent Treatment Plant operation is impractical for Small Size Industries, it is best to Cluster them and provide with Common Effluent Treatment Plants with Zero Liquid Discharge System.
Municipal Gravity Flow Drainage to be disconnected in participation with Corporations, Municipals & Panchayats to ensure there is no direct mixing of Domestic waste in to the Gange.
Public Pilferages is the most Un-Organized pollution on River Ganga which has to be done with public awareness on Cleanliness using Ad-Campaigns, Documentaries, Bill Boards, etc. Moreover, need to provide adequate waste disposal facilities in all public gathering areas. Our Human Psychology is Dirt following Dirt & Clean following Clean. This is our country and it's our responsibility to save our MAA.
Maa, jiske anchal me suraksha milti hai

Maa Gange, jisme snan kar paap dhulte hai

Khud k paap ki saza mat do apni Maa Ko

Har sham Maa ko Pujte ho aarti kar,

Kabhi sacche dil se apne Maa ko puj lo unhe samjh kar

Apna Jeevan bacha lo, Apni Maa ko Bacha Lo

Jai Maa Gange!!!